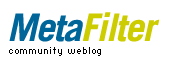 MetaFilter is Down
MetaFilter is currently offline for planned maintenance.

We went offline at 10 PM Pacific Time and we plan to be back in two hours. We'll update here and at status.metafilter.com if anything changes. Thanks for your patience.
What Now?
While you wait you might browse the MeFi Mall. It's a list of online shops by MetaFilter members.
Live Stream